More than just the latest buzzwords, find out how to engage with your audience in new ways. 
Panelists: 
Lindsay Boyle, senior editor for audience and social platforms, Hearst Connecticut Media.
With a focus on subscription growth and strong journalism, Lindsay Boyle oversees Hearst Connecticut Media's social media and third-party platform strategies, premium newsletters, push alerts and other products. She previously handled social media and coverage of the opioid epidemic, law enforcement and breaking news as a reporter and editor with The Day in New London. Twitter @LindsayABoyle
Eryn Dion, The Providence Journal 
Eryn Dion is the current Managing Editor of Content for The Providence Journal. Prior to moving to The Journal, she worked for several years as an engagement specialist, helping Gannett papers across New England launch and manage engagement projects, including Facebook groups, book clubs and Hearken-powered projects. She is a graduate of Roger Williams University. 
Maddie Mortell, Boston Globe Media
Maddie Mortell is an Audience Engagement Strategist for Boston Globe Media. She specializes in social media strategy for the Boston.com and Globe newsrooms and new initiatives, ensuring award-winning journalism reaches audiences in social-first, innovative, ways. She previously worked as a digital producer for Boston.com and WBUR, after interning for NPR. 
Karen Florin, The Day
Karen Florin writes a weekly news column, organizes events, hosts a podcast called "The Storyline,"  and raises funds for special projects. Florin was a reporter for 25 years, focusing most recently on the court system. She was a longtime member, and co-chair, of Connecticut's Judicial-Media Committee. She's passionate about open government and recently became a member of the Connecticut Council on Freedom of Information. 
In 2018, she was named Journalist of the Year by the New England Newspaper Association. She cherishes the Liberty Bell award bestowed on her by The New London County Bar Association in 2019. 
Moderator 
Jodie Mozdzer Gil, SCSU Journalism Department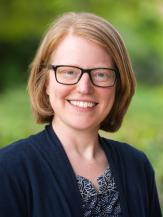 Jodie Gil is an associate professor of journalism at Southern Connecticut State University, where she teaches reporting and digital media courses. Prior to teaching, she worked as a full-time daily reporter for the Valley Independent Sentinel, a non-profit online publication she helped start in 2009. She has also worked as a reporter for the Hartford Courant and the Republican-American in Waterbury. She is a past president of the Connecticut Pro Chapter of the Society of Professional Journalists.